Ladies and Gentlemen
Merry Christmas and a Happy New Year.
EUROPOWER wishes you and your family a merry Christmas and a prosperous 2014!
This Christmas, we wanted to put the smallest among us in the spotlights. Our employees' children played the leading part in this film where they transform EUROPOWER into a company with a Christmas atmosphere. But this didn't go off smoothly, they had to assemble a generator to achieve their goal!
Click on the following link to view the splendid result.
The making of-pictures can be found here.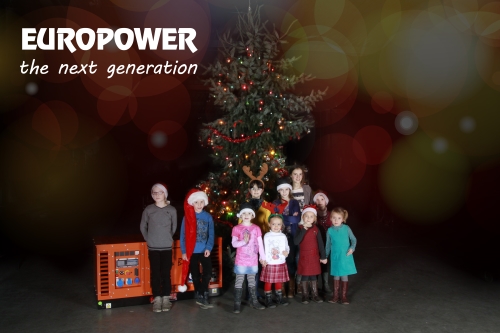 Merry Christmas and a Happy New Year. Joyeux Noël et Bonne Année. Fröhliche Weihnachten und ein glückliches Neues Jahr. Рождеством Христовым и С наступающим Новым Годом. Feliz Navidad y Próspero Año Nuevo. Buon Natale e Felice Anno Nuovo. Rõõmsaid Jõulupühi ja Head uut aastat. Selamat Hari Natal & Selamat Tahun Baru. Krist Yesu Ko Shuva Janma Utsav Ko Upalaxhma Hardik Shuva & Naya Barsa Ko harkik Shuvakamana. חג המולד שמח שנה טובה. Srekan Bozik I Nova Godina. Noeliniz Ve Yeni Yiliniz Kutlu Olsun. Vesele bozicne praznike in srecno novo leto. Vesele Vianoce. A stastlivy Novy Rok. Prieci'gus Ziemsve'tkus un Laimi'gu Jauno Gadu. Pyaw Shwin Thaw Christmas Par. God Jul och Gott Nytt År. 新年おめでとうございます. Sretna nova godina. Chestita Koleda i Shtastliva Nova Godina. Sretan Bozic. Vesela Nova Godine. Arahaba tratry ny Krismasy. Melkam Yelidet Beaal. Καλά Χριστούγεννα και Ευτυχισμένο το Νέο Ετος. God Jul og Godt Nyttår. Zul saryn bolon shine ony mend devshuulye. 메리 크리스마스 새해 복 많이 받으세요. नये साल की हार्दिक शुभकामनायें. Shenoraavor Nor Dari yev Soorp Janunt. Chuc Mung Giang Sinh - Chuc Mung Tan Nien. Gleðileg Jól og Farsaelt Komandi ár. Wesolych Swiat i Szczesliwego Nowego Roku. Sretan Bozic. Noeli Nziza & Umwaka Mwiza. Hyvää Joulua or Hauskaa Joulua - 0nnellista uutta vuotta. Veseloho Vam Rizdva i Shchastlyvoho Novoho Roku. 聖誕快樂 新年快樂. Krismas Njema Na Heri Za Mwaka Mpya. Boas Festas e um feliz Ano Novo. Yangi yilingiz bilan. كرسمس مبارک سال نو مبارک. Glædelig Jul og godt nytår. Suksan Wan Christmas lae Sawadee Pee Mai. Subha nath thalak Vewa. Subha Aluth Awrudhak Vewa. Nave sal di mubaraka. La Anul si La Multi Ani. Craciun fericit si un An Nou fericit. Selamat Hari Natal. Schéi Krëschtdeeg an e Schéint Néi Joer. De Christmas akhtar de bakhtawar au newai kal de mubarak sha. Kellemes karácsonyi ünnepeket és Boldog újévet. Shuvo Baro Din - Shuvo Nabo Barsho. Gëzuar Krishlindjet Vitin e Ri. Gleðilig jól og eydnuríkt nýggjár. Gilotsavt Krist'es Shobas & Gilosavt akhal ts'els. Veselé Vánoce a šťastný Nový rok. Tezze iliniz yahsi olsun. Zalig Kerstfeest en een Gelukkig Nieuwjaar.

Follow us on:
12/12/2013